Winona Forever!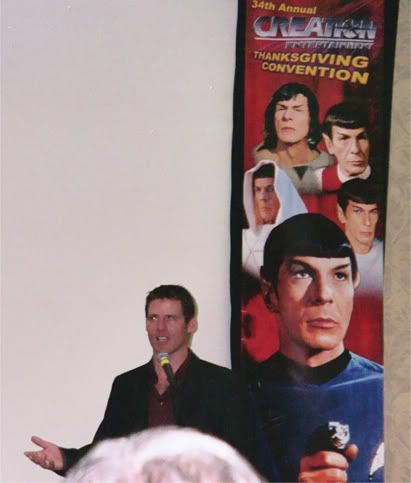 Ben Browder at the Creation Entertainment Thanksgiving Convention, NJ, 28 Nov. 2004
Baker's Dozen
:
1.
Scooby Doo
and
Hong Kong Phooey
distracted us, but we didn't get lost! (
yet
)
2. Poor
Jo
desperately trying to finish the con books in time for the breakfast .. Then bringing them to breakfast and having to say, "These are for you, but you can't have them yet." (
btw, the books came out great!
)
3. Meeting Twich, shaking her hand and then being told that she'd just shook
Ben
's hand. Per Twich, it's "six degrees of Ben"! *
snicker
*
4. Pool in the bar Saturday night. Meeting up with other Scapers there. Having
Anth
recognize me from my silly little photo and message. :D
5. Hey, it's
Tucker Smallwood
on the elevator. "I'm so tired .. need sleep." He nods in agreement.
6. Talking to Gerry, Steve and the lovely woman who was with them.
7. Riding the elevator with
Gigi
and friend then trying not to invade their space while waiting to check out of the hotel. Getting a big smile from
Anth
at breakfast, at the photo op & in the autograph line. Being mesmerized by
Ben
's blue eyes at breakfast.
8. Sunday night dinner in the bar & Monday morning breakfast in the restaurant .. little white roses, pictures, laughter, food, fun!
9.
Signal Room
(acoustic performance) Sunday afternoon & listening the CD on replay during most of the drive home
10.
Ben
recites a few lines from
Jabberwocky
! :D Can I get a HELL YEAH?!
11.
Jo
& I decide to stay an extra night. Trish decides to do the same. Best decision ever!
12. "Wow, we're in Rhode Island already?"
"Did we miss the exit?"
"Are we going the wrong way?
"I can't believe we're stuck on the Braintree rotary." (
as we circle for the fifth time
) *g*
"Hm, south .. or north?"
"I don't know how to get home from here."
"All roads lead to Norwoodopia."
"We can't blame
Scooby Doo
this time."
much giggling ...